Christmas in Sumter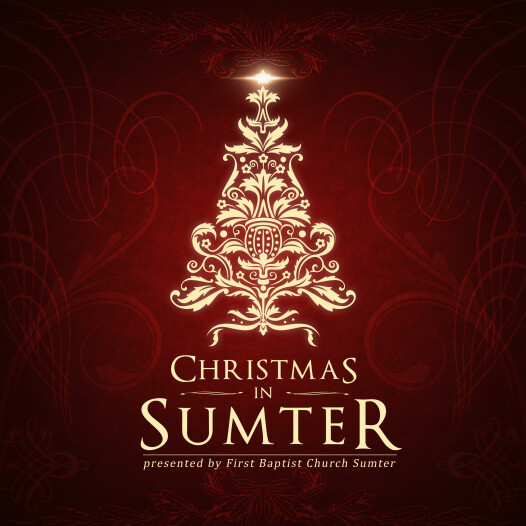 First Baptist Church is excited to present Christmas in Sumter on December 6 & 7 at 7:00 p.m.
Come hear wonderful Christmas music from our choir, orchestra, and special guests as we seek to celebrate this wonderful time of year! At the center of this program will be the story of why we celebrate Christmas - the birth of our Lord and Savior, Jesus Christ.
For tickets, click the buttons above (be sure to click the correct date for the tickets you would like) or stop by our church office. See below for frequently asked questions.
Frequently Asked Questions
Where is Christmas in Sumter held?
All performances will be held in the worship center of First Baptist Church, Sumter. Our address is: 107 E. Liberty St.
What is the price for tickets?
Tickets are $2 for all performances.
When are the performances?
The performances are December 6 and December 7 at 7:00 p.m.
How long will the performances last?
Each performance is approximately 90 minutes, with the doors opening 45 minutes before the start time.
Is there a limit to the number of tickets I can receive?
No. The tickets are $2 per person, and you can purchase as many tickets as you would like.
May I print my tickets off Planning Center?
Yes. Please print the tickets off of planning center and bring them to the performance the night you are attending.
Do you provide wheelchair seating?
Yes. Limited wheelchair seating is available.
Do I need tickets for my children?
Yes. Every person coming to the performance will need a ticket to enter.
May I take pictures during the performances?
No flash photography is permitted during the performances.
How may I get group tickets for a large group I would like to bring?
If your church or group would like to get a larger number of tickets for a group, we would be more than willing to help. Call the church office at 803-773-3732 and we will take care of your group.