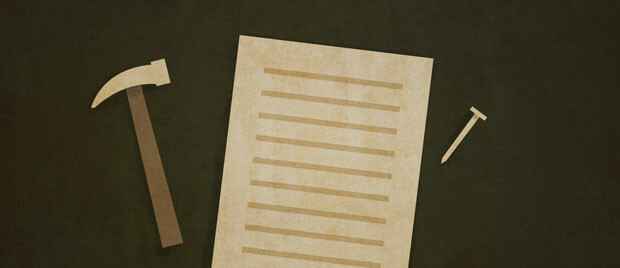 Every October, like the one that just passed, we celebrate Reformation month. On October 31, 1517, Martin Luther nailed his 95 theses to the door of the castle church in Wittenberg, setting off a reformation from which we owe much of our heritage as Protestants. This reclaiming of the gospel, the Bible, and a proper understanding of salvation still is the central tenet of our faith 500 years later.
Many know some of the names of from that time, like Luther's. But there were literally hundreds and thousands of other men and women that lived during this time that stood for the truths of the Bible at great cost.
In 1555 the Church of England was under fire from a royal foe, King Mary. Mary had 288 people burned at the stake for their protestant faith. The first of those was a man named John Rogers.
Rogers was educated at Cambridge University, and shortly thereafter became a Catholic priest. As he began that ministry, however, he quickly became disillusioned with the Catholic Church. Their views and practices weren't lining up with what Rogers believed and had started to see as he read the Bible for himself.
Not long after this, he met William Tyndale, the famous Bible translator. Tyndale took Rogers under his wing, teaching him the true gospel and the Bible. When Tyndale was later arrested, he left all of his Old Testament manuscripts he had been working so diligently to translate with Rogers. Rogers later compiled all of them under a pseudonym, ' Thomas Matthew', and the Matthews Bible would later become the first English Bible in the world.
Rogers left the Catholic Church and went to pastor in Germany, hoping to teach others what he had now so gloriously seen; that salvation came by grace alone through faith alone in Christ alone. After a season of pastoring in Germany, he, his wife, and their eight children moved back to England in 1548 where his heart was.
He preached freely under the leadership of King Edward VI, but in 1553 Mary appointed herself queen as the half-sister of Edward. She was a steadfast supporter of the church of Rome, fully opposed to the Reformation and its teachings.
John Rogers was appointed to preach the first Sunday after Mary took the throne and boldly proclaimed the gospel while preaching against the church at Rome and its 'idolatry'. That sermon would be the last he would preach. He was placed under house arrest the following week with his wife and now 10 children (with another on the way) and six months later was thrown into prison where he lived in cruel conditions for a year.
Then in January 1555 he was brought before a court and examined three times. He was condemned as a heretic on two charges, standing against the church at Rome. The penalty for his "heresy" was death by burning at the stake.
By this point, he had not seen or spoken to his wife in over a year and had not met his now youngest child. He pleaded on his final night for a chance to meet the baby and speak to his wife before he died and was refused.
The following morning he was led from his prison cell and into the streets right outside the parish he once pastored, under the shadow of the church he had preached in many times. A crowd gathered, and in that crowd he saw his wife and all his children watching as they tied him to the stake.
After being secured to the stake, he was given one last chance to recant his preaching and teaching. With his wife and children looking on Rogers responded, "That what I have preached I will seal with my blood." He was then burned at the stake as the first martyr during Mary's reign as queen.
Reading John Rogers' story, and others like his, reminds me of the boldness that so many had, in the face of great persecution, to preach, defend, and send the gospel forward to the next generation. We sing the gospel, proclaim the gospel, and fellowship around the gospel today because we stand on the shoulders of those who were willing to die for the gospel.
We are living in uncertain days where we don't know what the future may hold for followers of Christ. However, we know these words from Romans 8 were true for John Rogers and they will always be true for you and me: "For I am sure that neither death nor life, nor angels nor rulers, nor things present nor things to come, nor powers, nor height nor depth, nor anything else in all creation, will be able to separate us from the love of God in Christ Jesus our Lord."
Nothing. Can. Separate. Us. From. Christ. Let that sentence from Romans 8 give you great courage as you face the trials of life; let it give you great boldness in your evangelism and discipleship; and let it give you great hope for the future because regardless of what happens to any of us in the here and now, and regardless of what happened to John Rogers, he knew and we know what the future holds – an eternity of never being separated from the perfect love of Christ Jesus our Lord. Live with fearless freedom – that the reformers died for that we might know!