Children
Welcome to FBC Kids! Our vision and plan are simple: we desire to partner with families to raise a generation of kids who love and serve Jesus. Our strategy for doing this is to pour into your kids while they are here, while also equipping you to do the job God has called you to do, namely, raise your kids in such a way that they have every opportunity to love, serve, and follow Jesus.
Covid-19 Statement
Things might look a little different for us right now, but we are committed to providing our FBC families with the resources you need in order for your children to continue to grow in Christ.
Join our Facebook group for weekly challenges, virtual AWANA devotionals, Sunday school resources, and more!
sunday sermon notes
3-year-olds - 1st Grade: Click Here
2nd - 5th grade: Click Here
kids sunday lesson 4/5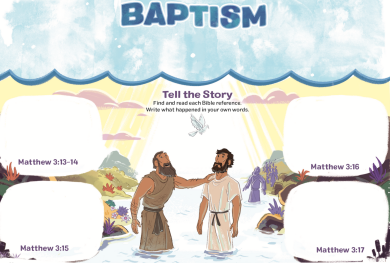 Unit 20 Session 1 - Jesus' Baptism
Bible passage: Matthew 3; Mark 1; Luke 3; John 1
Story Point: Jesus obeyed God by being baptized
Key Passage: John 3:30 - "He must increase, but I must decrease"
Big Picture Question: Why did Jesus become human? Jesus became human to obey His Father's plan to rescue sinners.
Session Starter: Special Handshakes: Ask your children to make a personalized handshake with you. Suggest they incorporate high-fives, fist bumps, hand-clapping, and other moves. Practice each handshake a few times and then demonstrate their handshake with other family members.
Say: People all over the world shake hands as a greeting. It's a sign to say, "hello, it's nice to meet you." What other actions do we do that communicate messages without words? (waving, bowing, hugging, saluting, crossing your arms) What do they mean? In the Bible story we hear today, we'll learn about baptism - a symbol that shows what it means to follow Jesus.
Bible Story Videos:
Preschool: Video
Elementary: Video
Family Discussion Questions:
1. Who was John the Baptist? He was the one Isaiah prophesied about, the voice crying out in the wilderness. Matthew 3:14
2. How did John respond at first to Jesus' request for baptism? John tried to stop Jesus at first. Matthew 3:14
3. What happened after Jesus was baptized? God spoke from heaven, and the Holy Spirit descended like a dove. Matthew 3: 16-17
4. Does baptism save us? Guide your children to understand that baptism is important, but is only a symbol of what Jesus has done for us. A person is baptized because they are saved, not in order to be saved.
5. Why is baptism important? Help your children to understand that God has commanded believers to be baptized, and Jesus provided an example of baptism for us to follow. We do not obey God to earn our salvation, but we want to obey Him out of love and worship. Baptism is a beautiful picture of our sinful lives dying with Jesus and our new life beginning when we are "raised" from the water. It shows the world we trust Jesus and identify with Him.
6. When should someone be baptized? Discuss with your children whatever policies your church has in place regarding baptism. Remind them that baptism is a way to show they have trusted Christ; anyone who has not trusted Christ should not be baptized.
Activity: Prepare the way
Hold the length of cardboard at a slight incline to serve as a track for the toy cars. Place small obstacles on the track. Have your child(ren) predict how long the car will take to reach the bottom. Remove the obstacles before sending the car down the track again.
Say: The toy car was able to make it to the bottom much more easily when the obstacles were removed. When we "prepared the way," it rolled down better. In a similar way, John's job was to prepare people for Jesus by telling people the Messiah was coming and preaching about repentance and God's kingdom. When Jesus obeyed God by being baptized, God proclaimed that Jesus was His Son, and the Holy Spirit rested on Jesus like a dove. The people could remember what John had said and see that Jesus was the Messiah that God had promised long ago. When we show people love and teach them about the gospel, we are preparing the way for the Holy Spirit to change their hearts to love and worship Jesus.
Family Prayer:
Ask your children if they have any prayer requests. Write them down and make sure you pray for those things!
Pray, thanking God for Jesus' example of obedience through baptism. Pray that your children would trust in Jesus and follow his example in baptism. Thank Him for new life in Christ!
Extras:
AWANA