Worship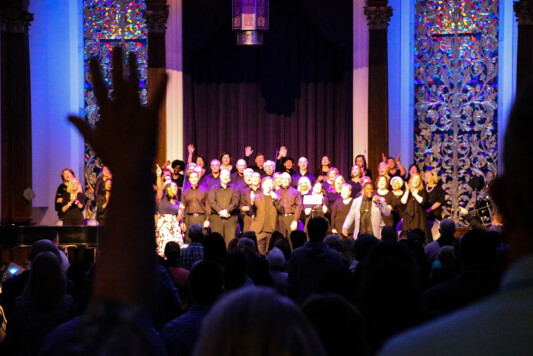 ...MAKING HIS GLORY KNOWN AMONG THE PEOPLE
The Worship Ministry of First Baptist Church in Sumter provides opportunities for people of all ages to use their God-given talents and abilities to help our church engage in authentic worship, while leading our congregation in contagious praise!
We hold true to the scriptures and have developed some core values to use as a foundation for building our ministry of worship and music. Following the acronym S.T.E.P.S., we believe God is calling us to:
SERVE HIM AND ONE ANOTHER
TAKE TIME TO PRAY
EXTEND GRACE TO ONE ANOTHER
PROTECT THE COMMUNITY OF GOD
SHARE OUR STORY

Ways you can serve within the First Baptist Worship Ministry!
Worship Choir
Our Worship Choir consists of individuals that are 18 years of age and older. This is the primary worship leading choir for our weekly 10:15 service. Rehearsals are on Wednesday evening from 6:30 – 8:00 PM. No audition is required, however a meeting with our Pastor of Worship is expected with each new member. Commitments are expected from September – December and January – May.
Orchestra
Our orchestra consists of individuals that have completed at least two years of band or private lessons on their respective instrument. Must be able to play at a high school level and read music. Auditions are required.
Band
Instrumental group consisting of Keys, Bass, Drums, Acoustic, Electric, Synth & Auxiliary Percussion. This group serves as the backbone/heartbeat of the orchestra. The band serves as the primary instrumental group that plays for our regular Sunday morning 10:15 worship service. Auditions are required.
Ensembles (auditions are required)
Mixed Ensembles
Men's Ensemble
Men's Quartet
Women's Ensemble
Praise Team Vocalists
Media Ministry
Front of House Audio
Record Sound
Video Production
Camera Operators
Producer
Platform assistants
Video Editor
Lighting
Record sound
Web Streaming
Children's Choirs
Little Voices – Preschool
Big Voices – 1st through 5th grade
Handbells
Our Handbell choirs play periodically over the course of the year during our corporate worship services. They also perform as an outreach to the community in various venues throughout Sumter. One of the annual highlights is their performances with "Christmas in Sumter"
Fine Arts Ministry
We have many gifted artists in our church. This is a ministry that allows these artists opportunities to use their gifts to help communicate the love of Jesus. This is done through themed art exhibits and often in cooperation with a sermon series.
For more information or to get involved please contact Kristin Lowe,