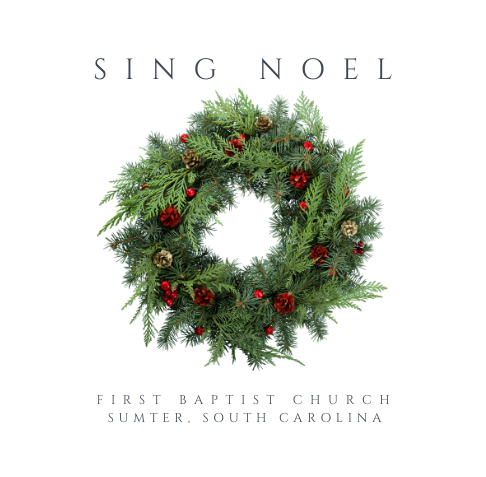 Friday, November 08, 2019 - Monday, December 23, 2019
Click the link above to purchase "Sing Noel"
FBC Worship is excited to present "Sing Noel" - a collection of Christmas songs from this year's presentation of "Christmas in Sumter."
"Sing Noel" features the very talented choir and soloists of First Baptist Church and will undoubtedly be a wonderful addition to your Christmas music collection.
Pick up several CD's and use them as stocking stuffers or as gifts for family, friends, coworkers and neighbors this Christmas!
CD's are available for a donation of $10. We encourage you to use this as a tool to start Gospel conversations and to let others know the true meaning of Christmas.
CDs will be available in the church office which is located at 107 E. Liberty Street in Sumter. When we receive confirmation of your purchase, your CD's will be in the church office and can be picked up anytime our office is open (8:30-5:00 M-Th and 8:30-12:30 Fri). Please email for more information.
If you would like us to mail your CD's to you, the donation is $12 to help offset shipping costs. You will be asked for your address when registering, and that is the address where the CD's will be shipped.